Oh my word!!! This is too much! Leah over at Diaries of a Domestic Goddess has awarded me the Kiss Ass blogger award! I am so excited to have this honor bestowed upon me! Thank you! Thank You! Thank You Leah! You rock girl!!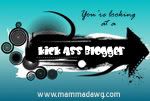 Here are the rules:
-Choose 5 bloggers that you feel are "Kick Ass Bloggers"
- Let them know via email, twitter or blog comments that they've received an award
-Share the love and link back to both the person who awarded you and back to http://www.mammadawg.com/-Pass it on!

-Grab the code's from this post and post your award for all to see and then blog about it
- Link up the person who nominated you (meaning me) for the Kick Ass Blogger Club.

Here are the 5 I nominate

1) Scargosun - I love her passion for Cape Cod. She recently learned some hard lessons with wine and lobster!

2) Judy over at Coffee Jitters-Poor girl is dealing with angles flying over head!

3) Good Golly Miss Blondie- I found her through another blog and saw she had my button! Hers was the first blog I saw it on! Thanks!!

4) Outnumbered 2 to 1- Without her I may not have become a blogger. Thanks T!

5) Blarney Spot- One of the first regular blogs I read and still do!