Here we on day 5 of my 5 day giveaway however I have decided to hold off the last giveaway and have an Earth Day Giveaway Day, I am waiting on a few more sponsors so hopefully it can be a day of Giveaways!

So instead today I am giving a HUGE shout out to my friend across the pond...well Lake Michigan...we live across the lake from each other. Dexter's Super Savvy Mommy is hosting a WHOLE MONTH of giveaways to celebrate Earth Day, Earth Day Extravaganza How cool is that??

You must head on over and see all the super fabulous things she is giving away! While you are there don't forget to grab her button and spread the word!!!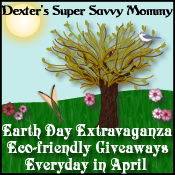 Don't forget to enter my Green giveaways...just click on the giveaway tab to see all of them.